Who doesn't want FREE Fabric ?
Happy Holidays to you all!
Our ever popular Gift Card Promotion :
Here is how it works : For every $ 130.00 worth of gift cards you buy,( fabric has gone up ) between December 18th -Jan 10th 2022 you will receive a free fabric card. That card is good for one free yard of fabric priced up to $ 19.99 every month during 2022. When does it start : It starts December 18th- thru January 10th 2022 to purchase the gift cards, and you can't use a gift card to buy a gift card, sorry guys.
You can purchase them in person at the store. Can't come to the store you can purchase it online for instore pick up. Not local you can purchase to use online. More details coming!
Check out our latest Commentsold Event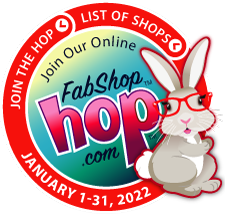 Fab Shop Hop Hint: Find the bunny hiding in our collections
Our in store hours for walk in customers are Mon - Friday 10-6, Sat 10-5 and Sunday's 10-4. We can schedule private shopping hours for you an hour before or an hour after, just ask!!
We offer Car delivery, or Curb service as I call it, place your order online, by email or call us and we can cut it bag, bag it and bring it to your car! We can also ship or schedule a local delivery.
We are still accepting quilts to quilt- Sammy needs to stay busy. We are quilting away busy at the store.
Handi Quilter Official Retailer - We are proud to be a Handi Quilter Official Retailer.
View machines
Join Our Mailing List
Promotions, new products and sales. Directly to your inbox.
Bits 'n Pieces
70 Bridge St,
Pelham, NH 03076
Hours:
Sunday 10 AM - 4 PM
Monday - Friday 10 AM - 6PM
Saturday 10 AM - 5PM
Get directions